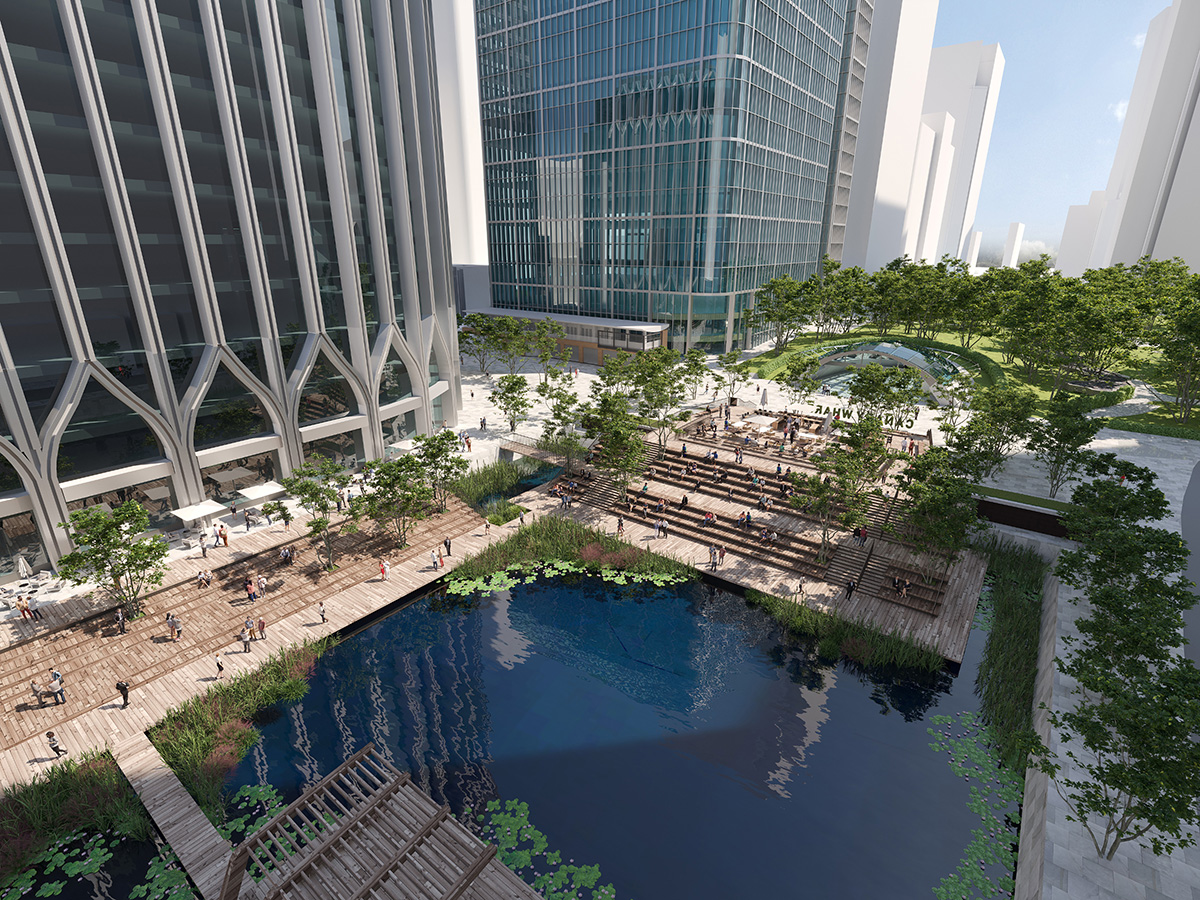 Working with Canary Wharf Group (CWG), we are developing an overall masterplan for the public realm and waterways for the Isle of Dogs. The ambition is to create a vision for the area that maximizes the opportunity to connect communities and people with nature and water, through a range of physical interventions — such as floating structures, landscape and bridges.
Between 1990 and 2015, the world's urban footprint increased an average of 2.5 times and by 2050, two thirds of the world's population are expected to live in cities. Through this partnership with Glenn Howells Architects, CWG, and Eden Project, we are reimagining the existing Canary Wharf estate as it transitions into a mixed-use and diverse liveable neighbourhood. Our proposals seek to broaden the appeal of the Isle of Dogs, by making great pedestrian experiences and creating new opportunities for both residents and visitors alike to engage with the water and in a green and sustainable environment.
David Henderson, Partner, Glenn Howells Architects said:
"By reconnecting the existing docks, plazas, parks and gardens we will create a green thread throughout the estate. Our ambition is to enhance biodiversity and ecology by bringing people closer to the water and putting health and well-being at the heart of the public realm."
Shobi Khan, CEO, CWG said:
"Our urbanising world cannot become sustainable until cities work for nature as well as people. In partnering with biodiversity expert, the Eden Project, alongside Glenn Howells Architects, CWG will accelerate thinking and action on how urban environments can be re-designed with nature at the heart.
"Sustainability has been front and centre for CWG's buildings over the last 20 years. We already have over 20 acres of parks and gardens and 5km of waterside paths. Our partnership with the Eden Project will ensure these spaces and new areas support the ecosystems that people and nature depend on as we bring transformational change to the estate."
David Harland, Chief Executive of Eden Project International, said:
"CWG and the Eden Project are both based on the transformational redevelopment of a former industrial site into a world-renowned icon of regeneration. Our exciting new partnership feels natural and vital. Eden's known track record in sustainability leadership aligned with the Canary Wharf's group consistently high sustainability ratings for their buildings offers a great platform upon which to build on."
"There is not a moment to waste. CWG and Eden are primed and ready to work together not just to make Canary Wharf a greener place rich in biodiversity, but also to share what we learn in order to bring nature back to other urban developments in the UK and across the globe."