With the ongoing climate crisis and given the significant carbon and greenhouse gas emissions associated with the agriculture sector, if our future cities are to be truly green, how can we encourage its citizens to adopt more sustainable food choices?
DENSITY IS GOOD
Higher densities can reduce sprawl, support public transport, enable social connections, support community services and is good for mental well-being and personal happiness. But with populations growing and the world becoming increasing urbanised, what does a sustainable city look like, how do we feed everyone, and meet the UN's goal of being carbon neutral by 2050?
WHAT WE EAT MATTERS
Whilst it is accepted design can create efficient buildings or promote green transport, global greenhouse gas emissions associated with agriculture are greater than all transport emissions, are responsible for deforestation of the amazon, 70% of global freshwater consumption and 38% of total land use, the need for cities to encourage people to adopt more sustainable food choices is obvious.
Global Greenhouse Gas Emissions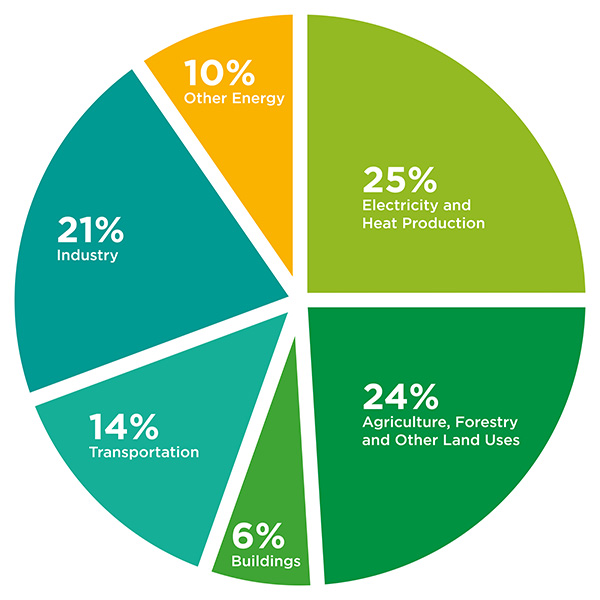 FUTURE PATHWAY
Below is a starting point for a framework of ideas that the debate could explore further:
Greater regulation or planning controls
The draft London Plan references the importance of access to healthy food choices whilst the planning system also protect pubs and petrol stations. But to what extent should the city infringe on personal freedom?
Locavorism
A popular narrative, but how does this work in practice when the overall benefits can be limited by a large number of variables including the productivity of growing environment, transportation and energy sources?
Vertical farming and hydroponics
Popular again, but does displacing people in favour of crops undermine the benefits of density?
Flexiatarism
Are health initiatives like 'Gateway Diet', 'Meatless Monday' or 'Veganuary' enough?
Culture
Cities with wider awareness of environmental challenges like Bristol, Brighton, and London typically favour plant-based diets but how do we boost this and replicate elsewhere?
CONCLUSION
The above points are by no means exhaustive, and all have some major challenges that are difficult to overcome. Yet cities can offer a positive platform for ideas. As designers we need to think of:
– How public spaces and cities can raise awareness and distribute information?
– How can they enable choice?
– How can demographics and trends can inform decision making?
– How this topic can tie in with other critical issues facing the planet?
Ultimately, we stand a better chance of addressing these challenges collectively rather than individually and we can only do this by getting the right individuals involved, promoting facts, choice and options for ongoing scrutiny and debate.
Jack Pritchard,  Associate Urban Designer